Kayak Fishing | Transporting Kayaks and Rods With a Truck
Kayak fishing is all the rage. It's no surprise considering it's a convenient and affordable alternative to boating.  It allows anglers to access bodies of water they wouldn't be able to reach while reducing the expense and maintenance that comes with owning a boat in the first place.
Most importantly, these factors make it something anyone, with nearly any budget, can enjoy.
However, despite its many benefits, there is one downfall: packing.
Part of its affordability is that it can be packed on an SUV, trailer, or perhaps most commonly a truck. This versatility gives anglers plenty of options when packing to go.  However, due to its weight, shape, and uneven distribution, packing a kayak isn't exactly easy.  Add in the need to also organize and pack gear (such as six foot and greater fishing rods) and it suddenly gets that much more difficult.
Perhaps that's why many people prefer packing a kayak on top of an SUV over a truck. This allows anglers to have more interior room for their valuables.
However, when the gear isn't a concern it's tough to beat the convenience of a truck. There is no need for a rack system or assistance.  Kayaks can be easily thrown in and strapped to the back.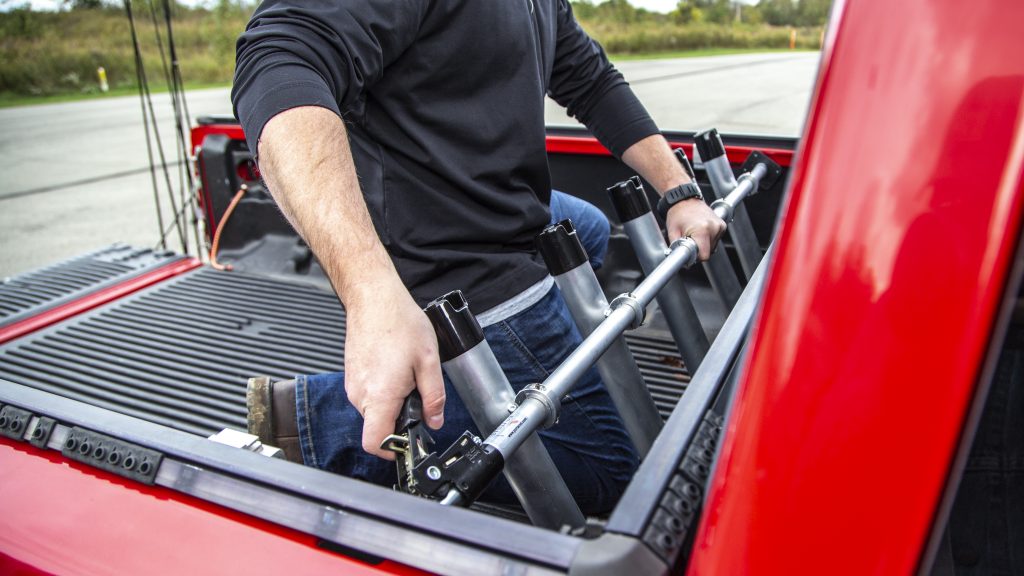 Then how is it possible to get the best of both worlds? By having a rod storage system that protects your rods, the truck, and allows you to pack your kayak and gear with ease.
That's why we have put together a quick list of options that will help you pack your gear both safely and securely.
Packing the Kayak
Although a truck seems like the best fit for kayak transportation, it's definitely not as efficient as you'd think it would be. In fact, a successful pack job depends on multiple variables including the size of the pickup, the size of the kayak, and the gear you need to bring with it. In some cases, if you have a short bed, a long kayak, or both, you will be required to purchase some sort of bed extender.
If you can wing it without a bed extender; then you won't need anything more than a few straps and some secure storage solutions.  This is where kayak fishing really starts to shine.
Packing the Rods
Arguably the biggest concern when packing gear around a kayak is rod placement.  With limited rod space, packing the rods in the front isn't an option.  It only has one place to go: outside in the elements.  This can easily lead to a careless packing job resulting in stolen rods, broken rods, or general wear and tear. Considering fishing can be very expensive, this is a huge concern.
For anglers with boats, this is usually never a concern since most boats have rod holders built in. However, Kayak anglers don't have such conveniences.  Instead, they need to find the right accessories to help protect and organize their gear without damaging their bed.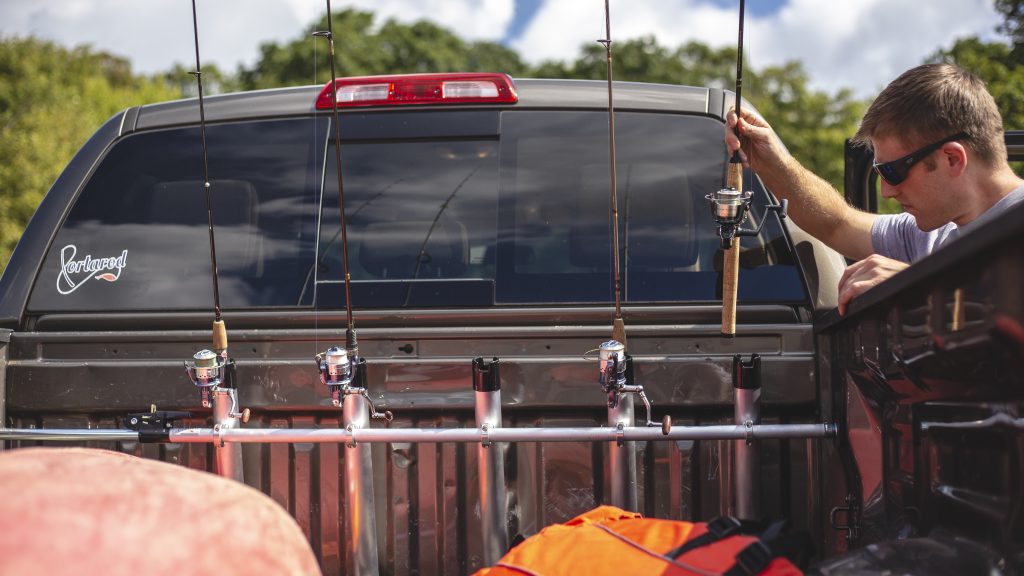 The safest and most secure way to accomplish this is by investing in the right rod holder. However, finding the right rod holder is essential when protecting and securing both the rods and the truck.  It's also important to note that most people prefer not drilling into their truck bed.
A few things to consider when picking out the rod holders include: 
Number of rods 
Size of rods 
Truck size 
Travel conditions 
The body of water (in-shore or off-shore?) 
Security 
We go through a few of these features below!
<iframe src="https://www.facebook.com/plugins/video.php?href=https%3A%2F%2Fwww.facebook.com%2Fportarod%2Fvideos%2F1989496061092630%2F&show_text=0&width=560″ width="560″ height="315″ style="border:none;overflow:hidden" scrolling="no" frameborder="0″ allowTransparency="true" allowFullScreen="true"></iframe>
Locking the Rods
Breaking rods isn't the only concern fishermen have when transporting a kayak.  They also have to worry about them being stolen. Quality rods have a high value and are an easy target for thieves.  That's why it's important that they are stored away properly.
Of course, this is the biggest concern when fishing in urban areas.  In these scenarios, rod holders that can be locked are essential.
Often times, boat anglers have rods stored in locked compartments or under boat covers, reducing the risk of theft.  However, kayak anglers (who pack with a truck) only have one place for them: in the open.  That means stopping at stores, staying at a hotel, or simply leaving some rods behind while on the water means there is an increased chance of somebody walking away with them. However, with the right rod lockers, this fear is eliminated.
Portarod rod lockers work by not only securing the rod locker to the truck but by having locks on the holders to secure the rods to the locker.  This is a huge benefit from traveling through cities, fishing popular areas, or simply needing to leave your rods out in the elements for a few days.
Inshore Fishing
There are really two different types of fishing to account for: inshore and offshore.  By definition, inshore fishing means fishing waters that are thirty meters or less in depth.  Therefore this generally means inshore fishing refers to fishing lakes and rivers instead of the ocean.  Lakes and rivers generally require lighter weight gear and less maintenance than its offshore counterpart. This is why it's important to have rod storage for each set of conditions.
Inshore rod holders are going to be cheaper, lighter weight, and overall easier to handle than offshore holders.  This is because they don't require the corrosion resistant and heavy-duty build as offshore holders do.
Portarod has a rod storage option for inshore fishermen that save anglers money and effort.  They are lightweight and affordable and fit in any truck.  They also come with a variety of options.
This is the perfect option for you if you plan on fishing primarily freshwater.
Offshore
When dealing with offshore fishing, heavy duty equipment, and excess wear are the two biggest concerns.  Offshore fishing gear tends to be larger, heavier, and require more space. This then means the rods need to be stored in larger, heavier holders.
Offshore also means anglers have to combat salt. Salt can cause havoc on everything, this includes rod lockers.  Portarod makes a heavy duty rod holder made to hold those saltwater rods while resisting salt and wear.  It's simply stronger, noncorrosive, and heavier duty than its inshore counterparts. This is an absolute must for offshore anglers.
Packing Coolers, Tackle, and More
Packing the remainder of the kayak fishing supplies is easy once the kayak has been loaded and the rods are securely in space.  Any remainder room can be used for coolers, tackle boxes, and other essentials.
Another important factor to consider is packing for times when you aren't fishing.  Portarod's convenient mounting technique makes it easy to add and remove, while not damaging the truck in the process. This means adjusting from fishing to everyday life is breeze.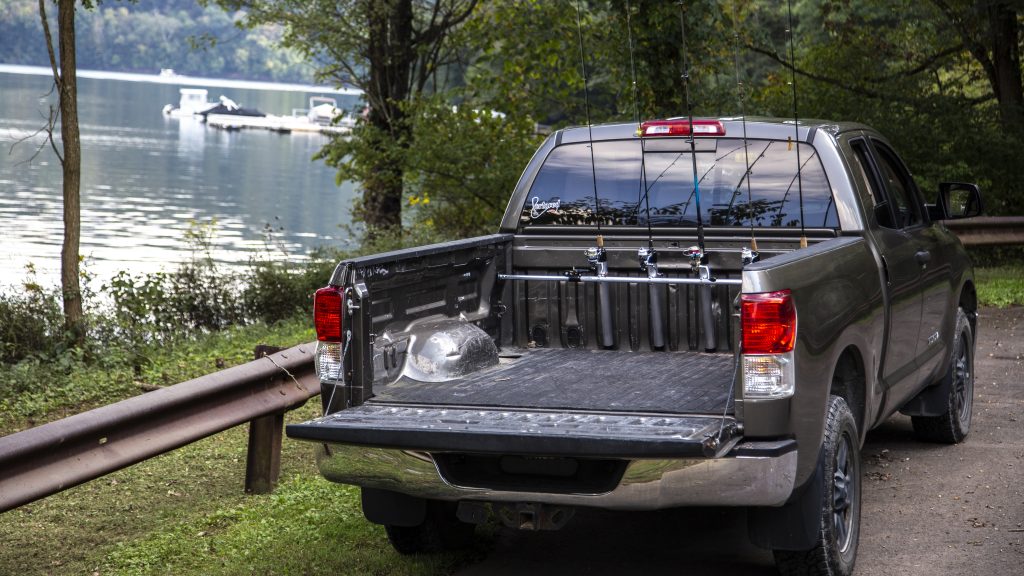 Why You Need Portarod
Poratarod allows you to transport rods safely and securely, without having to drill or damage your vehicle.  This protects both your gear and your truck. It also comes with a variety of options and price points, making sure there is a model for anyone's kayaking needs. By not requiring you to bolt, or mount, the rod holder on the vehicle in any way.  It also makes readjusting incredibly easy.
Portarod also offers many different sizes, including three, four, five holders, and even individual holders if needed. This gives incredible flexibility for your gear and your space.
Most people don't buy a truck just for fishing. Therefore being able to remove the rod holder when needed is an important necessity when buying a rod rack.  It's also important to have in-shore, off-shore, and security options.  Therefore, you will always have the right rod holder when needed.